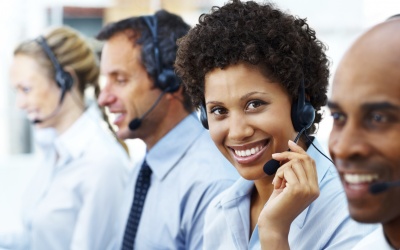 Call Center Payments System
Velocity provides a complete suite of products focused on the specific needs of call centers and customer support operations. Velocity's Call Center solution enables your staff to process credit card, debit, ACH/e-check and cash transactions on behalf of your customers.  This call center solution has been designed with an intuitive user interface to reduce handling time, as well as reduce the learning curve for new call center employees.  This call center solution provides the following features and benefits.
Credit Card, Debit Card, ACH and Cash Payment Processing
Payment Transaction Search Capabilities
Customer Profile Creation & Management
Auto Pay Enrollment & Management
Deferred & Series Payment Plan Payments
ACH Return & Credit Card Chargeback Management
Payer Fraud & Abuse Identification & Management
Velocity's Call Center solution allows your team to create and manage profiles for your customers. Your staff can make payments on your customer's behalf and you can store payment information to make future payments quick and easy. It's also easy to migrate existing customer profile information into our system with our bulk enrollment process.
Files to Download:
BPO Flyer.pdf
Velocity CRM Payments 360 Brochure.pdf
Velocity for Contact Centers.pdf
VelocityPaymentSystem-Govolution.pdf