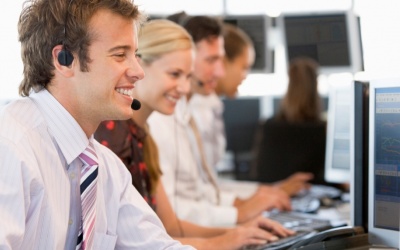 CRM Payments 360
Velocity's CRM Payments 360 product  provides call centers and customer support organizations with an integrated view of their customers' demographic, billing and payment-related information in one easy-to-use interface.  This CRM solution can be easily integrated into a client's front end CRM system, ensuring a seamless experience for both support representatives and their customers.  Additionally, any payment-related actions that are performed by support representatives can be provided back to the client front end CRM system in real time to guarantee that all client systems have the most up-to-date information.  CRM Payments 360 is highly configurable, allowing it to be setup to satisfy a client's specific business processes.  Some of the features and benefits of this production include the following.
Credit Card, Debit Card, ACH and Cash Payment Processing
Supports Both Over-the-Phone & Point of Sale Customer Interactions
Bill Presentment & Payment
Invoice Payments
Payment Transaction Search Capabilities
Customer Profile Creation & Management
Auto Pay Enrollment & Management
Deferred & Series Payment Plan Payments
ACH Return & Credit Card Chargeback Management
Payer Fraud & Abuse Identification & Management
Easy Integration With Client CRM & Accounts Receiveable Solutions
CRM Payments 360 has been designed to meet the specific needs of any size customer support organization.  It is highly configurable, allowing it to be setup to function within a client's existing business processes.  The interface is highly intuitive, reducing the learning curve for new employees, as well as reducing the handling time for customer requests.
Files to Download:
Velocity CRM Payments 360 Brochure.pdf